Last Thursday, the European finals of the IBM Watson Build Challenge contest took place in Cannes.
Reserved to IBM's business partners, we introduced eiverSafety to address the needs of the entire automotive ecosystem; already customers of IBM.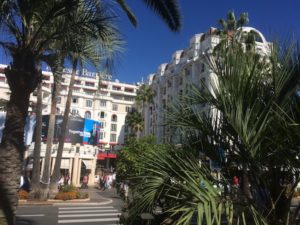 Already selected among the 3 finalists in France last July, we were eager to present eiverSafety to the European jury of the Watson Build Challenge 2017. This event took place in a rather welcoming setting in Cannes, the Hotel Majestic, for 2 days
of exchanges and meetings with IBM's European management and 25 of the best partners in the field of cognitive technologies.
Each country presented 3 projects each carried by a company. A 15-minute pitch followed by questions/answers from the jury, inspired by the SHARK TANK program in the US or DRAGON's DEN in the United Kingdom.
We are proud to have been selected and to have had the opportunity to present our innovations in the field of driving assistance on a smartphone. We wish good luck to Blue IT, Italian IBM partner, who will fly the colours of Europe to the world finals in New York City on November 2nd.