From 13th to 17th February SaveCode (eiver) participated in the PartnerWorld Leadership Conference organized by IBM in Las Vegas.
Nominated for the "IBM Beacon Awards" in the "Outstanding Analytics Platform Solution" category, SaveCode is the only French startup finalist and rewarded for this 2017 edition.
The presence of SaveCode at the PartnerWorld Leadership Conference allowed it to increase its visibility internationally and to present to the entire ecosystem of IBM's customers and partners its innovations in terms of analysis of the usage based data for automobile industry.
The IBM Beacon Awards are part of IBM's PartnerWorld program. This is the highest distinction a business partner can receive. It provides IBM's business partners with industry recognition, promotional opportunities and visibility. Excellence in the development and delivery of solutions and services offered by business partners around the world are rewarded.
"Being selected at the IBM Beacon Awards, only 2 years after signing a partnership with IBM is very good news for us. This demonstrates our maturity and the value of our solutions for the benefit of very large international companies. We are very proud of this distinction. " Said Christophe MEUNIER-JACOB, President and co-founder of SaveCode.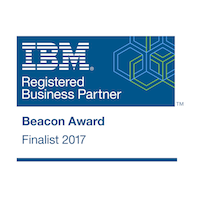 This award is a continuation of SaveCode's journey alongside IBM. Since the beginning of
February, the startup has integrated the Scale Zone, an open and tailor-made location for startups at IBM France. This space provides a real "scaling" of startup's solutions and allows the selected startups to be accompanied in their dealings with large companies.