Win an electric scooter with the eiver challenge
At eiver, we like to keep up with the times !
So for our challenge "E-Prix de Paris" available on our app (from March 1st to May 30th, 2019), guess what we chose as a prize ? An electric scooter 🙂
This scooter is a Xiaomi Mi Electric Scooter, capable of supporting 100Kg and running at a maximum speed of 25Km / h. It has a range of 30Km thanks to its battery capacity of 7800 mAh.
This machine has a powerful engine and it will make your rides much more incredible.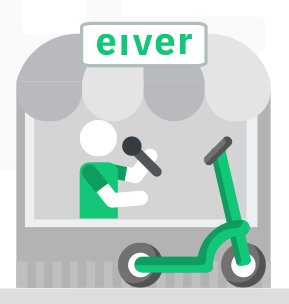 The end of anarchy for the electric scooter
The craze for electric scooters leads to some abuse. That's why we strongly emphasize caution and security at eiver. In fact, injuries related to falls on scooters are increasing sharply, especially in urban areas.
Choose to wear a helmet and make sure you move at a reduced speed. We do not recommend, for example, riding an electric scooter … on the highway (yes, yes it has already happened)!
This is just one example among many others, but these abuses forces the city of Paris to take measures to put a framework on this trend. Know that the city of Lyon has already done it. It's only a matter of time before some special Traffic Laws for the electric scooter comes into play ….
Today, it is still unclear as to when to use it. If we refer ourselves to the official texts, electric scooters "are prohibited on public roads (sidewalks and lanes)". In that case, where do they roll ?
Those are only allowed on private roads … otherwise, it can go up to a year of imprisonment and a 15 000 euros fine.
But, the bill of orientation about mobilities is being prepared which should authorize these new means of ecological and urban transport.